This page helps you follow what our partners at Bright Bricks Ltd are up to – scan down for older items.  There are some amazing time-lapse videos!
4th November 2016
Have you built a skyscraper in one of our parties?  Here is how the professionals do it!  The use of LEDs to light it up is pretty cool too!
7th October 2016
This stag was built by the Bright Bricks team to be displayed alongside a record-breaking model of Tower Bridge at the unveiling of Land Rover's new Discovery!
 4th October 2016
Landrover had an amazing advert recently.  They drove cars over (and under) the biggest LEGO structure in the world (according to the Guiness book of records).  Take a look at these two videos.  The first one even gives you an idea of what Bright Bricks factory looks like!
25th August 2016
The stork is coming (with a new delivery?).
18th April 2016
Building in black (or very dark grey)?  It has to be Batman!  You may have seen the small LEGO version of the Batmobile from Batman versus Superman, but this big version is totally awesome!
 11th April 2016
Did you like BB-8?  Well, here is another treat for Star Wars fans.  Bright Bricks were commissioned to do something special for the Star Was Force Awakens UK Premiere. Its LEGO Kylo Ren!
14th March 2016
Who loves Minecraft?  Here's one for you.  For those of you who know very little about Minecraft – meet Steve.
1st February 2016
Here are a few iconic London landmark buildings, interpreted in LEGO by Bright Bricks.
31st January 2016
Star Wars – the newest addition to the collection of robots – BB-8!
26th November 2015
Time to get out the Christmas decorations – Bright Bricks style.  Santa and his reindeer have arrived in Liverpool, while Covent Garden is displaying the Santa Express.
And here's how they built it!
 19 November 2015
Who's coming!  To celebrate the soon-to-arrive LEGO Dr Who set (to be released at the beginning of December), Bright Bricks have built this full-size Tardis.  Those of you who were lucky enough to get to Bricks 2015 at Birmingham NEC may already have seen it.
 3rd November 2015
Anyone for a Scooby treat?  Here's how the loveable hound was recreated in LEGO.
 14th October 2015
Bright Bricks have made the Guinness Book of Records with this one – Here they are building the worlds largest LEGO caravan for the Motorhome and Caravan Show 2015.
29th September 2015
Hamleys has a new attraction – watch out for swarms of munchkins!
25th September 2015
Who needs paint to make pictures?  Here is a London landmark as you may not have seen it before.  (No flying pigs though).
 21st September 2015
Anyone keen on space?  This is a 2/3 scale model of a Soviet space vehicle – big enough to get inside!
21st September 2015
You may have seen some strange creatures in the undergrowth if you visited the Wetlands Wildlife trust over the summer.  Here is where they came from!
24th August 2015
In case you haven't seen these before, here are a few other amazing models made by our friends over at Bright Bricks. First, we have the giant watch!  
This is one for the ladies – How would you like to add this to your shoe collection?  Both these models are on display at the McArther Glen Shopping Outlet at Swindon, along with a giant handbag (complete with phone, mirror and lippy).    
 18th July 2015
5, 4, 3, 2, 1, Blastoff!  Bright Bricks latest contribution to the British space effort.    
2nd July 2015
Anyone get to Glastonbury?  The media coverage was pretty good this year.  BB have been busy on that too.  It's probably just as well that they did not try to get enough minifigures for the crowd – it might have caused a world shortage!  
2nd July 2015
Catching up with recent activity from Bright Bricks – those clever chaps have been building Triathletes!  Did anyone spot them on the BBC2 coverage of the London Triathlon?
5th June 2015
If you were to put a bus-stop outside the most famous toyshop in the UK – it would have to be made out of LEGO!
28th May 2015
Have you ever build a farm out of LEGO?  Did it take you a while?  Here's how Bright Bricks do it.
12th May 2015
For all you Gardians of the Galaxy fans – watch out for this one, appearing soon!
5th May 2015
Guess who was at the recent launch of the new Avengers movie!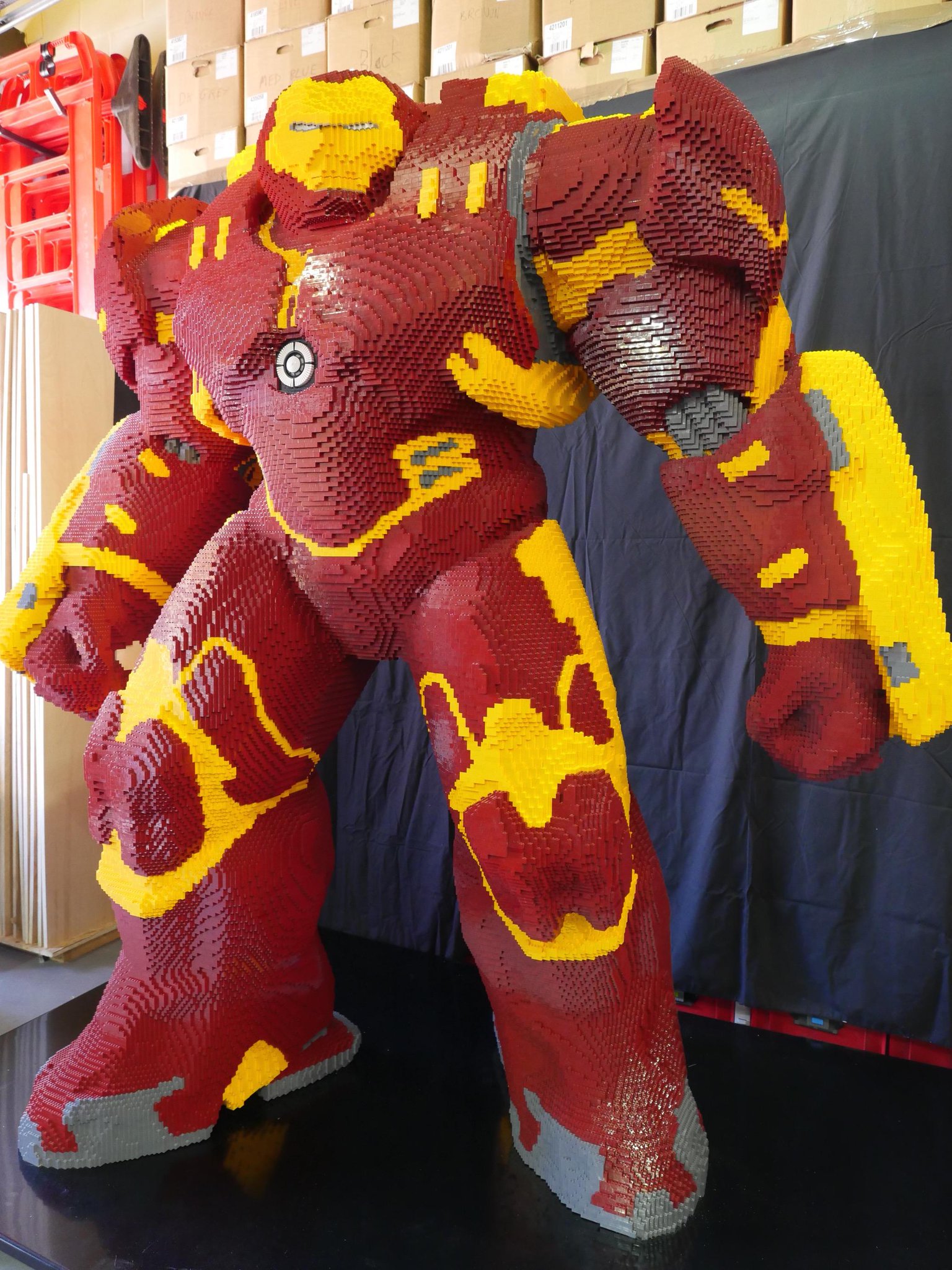 26th March 2015
This is a model of a Flybe Q400 on display at Southampton Airport. The final model was made with roughly 18500 bricks, and about 60 man-hours to complete! The build was done inside the Airport so passengers could watch the progress as they arrived or departed from Southampton.  It's now on display at 'Milestones Museum' in Basingstoke.
5th March 2015
One for you cat lovers – you can even see how it's held together inside!  This took around 80,000 bricks to build.